Planting Trees
Story of 1,000 Trees

Trees provide the branches needed for housing, the fruit necessary for a healthy diet, a spot of shade from the hot African sun, and the wood needed for cooking a family meal. They are essential for the health and shelter of these vulnerable people.
Unfortunately, years of war, refugee camps, and unsustainable agricultural and living practices have left much of Northern Uganda stripped of its native trees.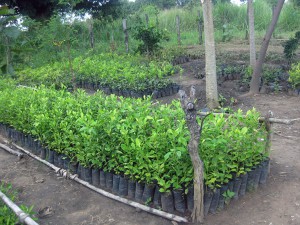 We raise and distribute thousands of seedlings to provide communities with the fruit, fuel and shade communities need to thrive. Just $15 can help provide 100 seedlings to a barren village and help move us toward our goal: to plant 1 million trees!
Developing Mangoes in Our Orchard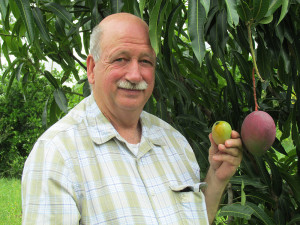 ARDSO Executive Director Peter Keller is showing off a common small mango and the big variation that we have developed from grafts in our orchard. We started with a planting three years ago. The small fruit sells in the marketplace at 500 shillings for ten mangoes. The big new mangoes pictured here sells for 2000 shillings each. That brings more money back to the families that we help.
George Interviews Akello Evelyn about her Orange Tree